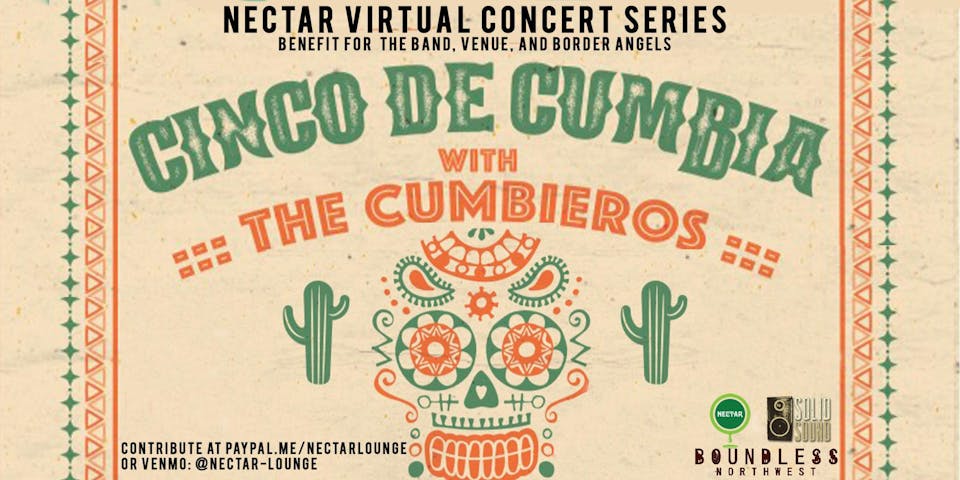 Nectar Virtual Concert Series #112
NVCS presents CINCO DE MAYO LIVESTREAM feat THE CUMBIEROS
Nectar Virtual Concert Series featuring THE CUMBIEROS! "Pay What You Will" via PayPal @ paypal.me/nectarlounge
Click the "Tickets" link now to contribute!
STREAMING LIVE ON NECTAR YOUTUBE CHANNEL:
https://www.youtube.com/channel/UCV3GuytG6_IQEFe_iibgESA
5.5 Wednesday (Latin)
NECTAR VIRTUAL CONCERT SERIES featuring:
THE CUMBIEROS
Benefitting the artist, venue, and Border Angels
8:00pm PT
"Pay What You Will" ways to contribute are:
via PayPal @ paypal.me/nectarlounge
or via Venmo: @nectar-lounge
$15 & up Suggest Contribution (your contributions are greatly appreciated!)
Net Proceeds from contributions go to:
The Artist,
Border Angels- advocating for human rights and social justice at the border
& Nectar operational expenses during COVID lockdown
------------
Streaming live via
Nectar Lounge
412 N 36th St
www.nectarlounge.com
THE CUMBIEROS
https://www.facebook.com/TheCumbieros
The Cumbieros are a multi-national Cumbia band born in Seattle in 2011, made up of talented musicians coming from diverse backgrounds and countries, including Chile and the US. Featuring a variety of instruments such as horns, Rock and Latin percussion, guitars, keyboard, and more, The Cumbieros fuse traditional and contemporary South American Cumbia with the modern sounds of ska and rock creating fun, high-energy music that drives everyone to the dance floor. Cumbia is a genre of music/dance that originated in Colombia but extremely popular all across Latin America. Today, The Cumbieros continue spreading the popularity of this music to the Pacific Northwest and beyond with one goal in mind: getting people on the dance floor.