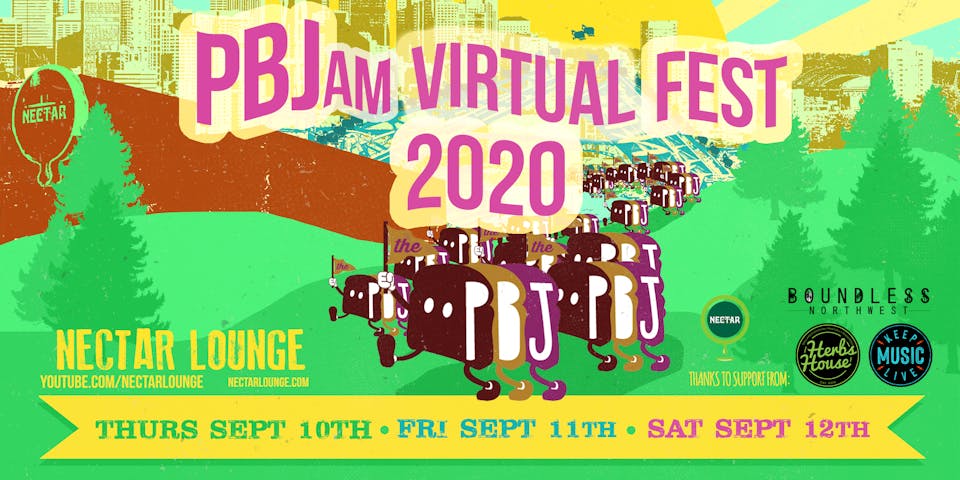 Nectar, Herb's House & The PBJ Present:
PBJam VIRTUAL FEST 2020! You can still support @ www.paypal.me/nectarlounge
We're going live with PBJam Virtual Fest 2020, featuring a lineup of some of the best funk, jam, and bluegrass acts in the PNW! Join us!
PBJam Virtual Fest 2020 is a three-day LIVE STREAM event featuring some of the best local bluegrass, funk, jam groups in the PNW. Each band will perform live on stage at Nectar Lounge with professional sound, lights and visual production and broadcasted out to a live home (or wherever) audience. PBJam Virtual Fest aims to bring attention to some of the many talented musicians in the PNW, and fans are encouraged to tune in throughout the weekend and experience multiple performances. Artist lineup announcements will be rolled out below!
Please click the "Tickets" button and "Pay What You Will". Thanks to support from Herbs House, 100% of fan contributions support THE ARTISTS, Nectar and Keep Music Live Washington! (more info below...)
PLEASE SUBSCRIBE TO NECTAR YOUTUBE CHANNEL:
https://www.youtube.com/nectarlounge
and tune in for the live streams! more info below...
9.10 Thursday + 9.11 Friday + 9.12 Saturday (Funk / Jam / Bluegrass)
Nectar, Herb's House & The PBJ Present:
PBJam VIRTUAL FEST 2020!!
showcasing 5 PNW groups across 3 days
w/ festival style lights & visual production
VIRTUAL FEST SCHEDULE:
THU 7-10pm Unsinkable Heavies + Lucky Brown (2 sets!!)
FRI 6-7:30pm Spare Rib & The Bluegrass Sauce
FRI 8-10pm Swindler
SAT 6-7:30pm The High Seagrass
SAT 8-10pm Yak Attack
"Pay What You Will" ($15 & up suggested daily)
1. Click "tickets" button and contribute any amount you'd like!
2. or contribute via https://www.paypal.me/nectarlounge
3. or send via Venmo: @nectar-lounge
NVCS and PBJam Virtual Fest support the musicians, Keep Music Live and Nectar operations during COVID-19 lockdown. Your contributions are greatly appreciated!
Keep Music Live will help many of Washington State's independent live music venues re-open as soon as COVID-19 related closure requirements are lifted. Whatever the new normal will be for live music venues, these cultural hubs are vital to the economic recovery and reimagination of communities of all sizes. They support artistic expression, bring audiences together and give emerging artists a literal stage from which to launch their music careers. They also feed local economies through ticket, dining and lodging sales and more. https://keepmusiclivewa.com/
***Keeping performers and limited crew safe is the #1 priority and we have a series of ground rules that require strict adherence as prerequisite to proceeding with each of these performances. We limit the people in the building to the absolute minimum of essential workforce only and have measures in place to promote social distancing before, during, and after performances. Self-reporting and temperature taking is a mandatory request to ensure nobody is symptomatic. Musicians are encouraged to wear masks while not performing. We do sanitize equipment after each performance, and do not allow sharing of microphones. Hand sanitizer is available throughout and of course we encourage hand hygiene, while discouraging any/all contact between individuals, face touching, etc and prohibiting close contact between crew and performers.***
------------
It was with a heavy heart that we had to cancel our shows and we hope that NVCS brings fans some much needed entertainment during these otherwise challenging times!
Thanks for your continued support, stay safe and healthy out there, and we look forward to seeing you at this or another stream in the Nectar Virtual Concert Series, and of course at the next live concert when we reopen!
With Love,
Team Nectar
Streaming live via
Nectar Lounge
412 N 36th St