Nectar & The PBJ Present:
PERPETUAL GROOVE with Tryin' [Rescheduled JAN 14, 2022]
Early '00s jamband festival favorite Perpetual Groove (Bonnaroo, High Sierra, Jamcruise) is back from a long hiatus, and ready to rage!
This event has been rescheduled again from January 15, 2021 to January 14, 2022 to allow Perpetual Groove to reschedule their entire tour. All original tickets will be honored. We look forward to seeing everybody back at Nectar someday soon!
1.14.22 Friday (Jam)
Nectar & The PBJ Present:
PERPETUAL GROOVE
Tryin'
$15 advance
8pm doors
9pm show
21+
Nectar Lounge
412 N 36th St
www.nectarlounge.com
PERPETUAL GROOVE
Website | Spotify | Soundcloud
Perpetual Groove caught everyone by surprise in 2015 when they returned to the stage after a two-year hiatus. The band performed eight weekends that year, over multi-night runs, to sold-out shows in some of their favorite cities across the country, thus ringing in a new chapter for Perpetual Groove. The band resolved to make a big change by taking the time to craft, and bring to focus, music that stays true to their creative vision.
That change is here on their new self-titled album. The band recruited producers Jason Kingsland and Tim Friesen to help them accomplish the most engaging and sonically-gratifying Perpetual Groove album to date. While recording at The Fidelitorium in Kernersville, NC and Studio MG in Roswell, GA, the band and producers engineered an album that will define Perpetual Groove for years to come. Seven new songs were written by the band specifically for this album representing all that life brings—loss, redemption, and hope.
Perpetual Groove continues to create a cultivated, unique experience for each live show. This new chapter for Perpetual Groove showcases the continuing evolution of their music and performances. This is a band that is fully realized and ready to bring their new sound, storytelling, and live experience to the masses.
Tryin'
Seattle-based live electronic quartet that blends elements of trance, rock, and disco as they create a unique sonic canvas during every performance.
Tryin' is a state of mind. We specialize in bringing you an improvisational dance experience unlike any you've had before. After a long stint honing their sound and tone as a duo with a drum machine, Max Rosen (keys/synth) and Tanner Aaron (guitar) brought drummer Jacob Smith onboard to provide that live thump the fans have been craving.
Fear not, Seattle. The untz has arrived to deliver thee from thy sorrows.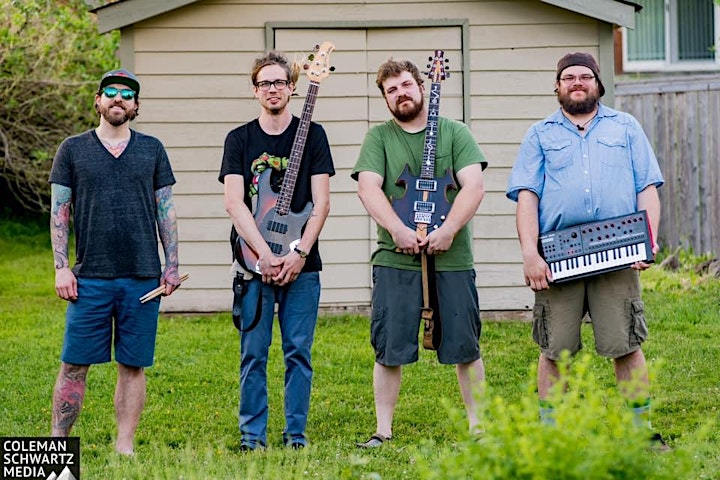 Venue Information:
Nectar Lounge
412 North 36th Street

Seattle, WA, 98103